Orally Disintegrating Technology
A convenient alternative to conventional dosage forms, making a difference in patient experience.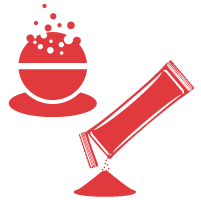 Offering ease of use and convenience, orally disintegrating tablets (ODT) and powders (ODP) have become a preferred dosage form for consumers worldwide for medications in a variety of therapeutic areas. These include traditional over-the-counter (OTC) medicines such as ibuprofen and acetaminophen, well-established prescription drugs such as montelukast and olanzapine, and a variety of other drugs for indications such as sleeplessness, erectile dysfunction, and migraine.
Orally Disintegrating Tablets
An orally disintegrating tablet is a solid-dosage form that disintegrates in the mouth without water in 30 seconds or less, thereby increasing convenience and compliance for a broad range of indications and patient types—including young or elderly patients who may have difficulty swallowing or chewing a conventional tablet, active people who prefer the convenience of taking an ODT that does not require water, and travelers or patients in locations with a limited or unreliable supply of safe water. Orally disintegrating tablets offer a variety of benefits for both patients and manufacturers, making the ODT dosage form a versatile option for many applications.
Benefits of ODT for Patients and Caregivers
Allows accurate dosing—no risk of liquid spills
Improved patient compliance—easier to take or administer than conventional tablets or liquid forms
Ideally suited for non-ambulatory patients and those with difficulty swallowing or chewing
More convenient than other dosage forms—easy to swallow, requires no water, and offers quicker onset of therapeutic action for some drugs
Benefits of ODT for Manufacturers
A cost-effective way to extend your drug's life cycle—a new ODT formulation can create a branded, differentiated line extension
Gain entry into new markets and patient populations
Better stability than liquid dosage forms
Help meet the growing demand for more patient-friendly and compliant dosage forms
At SPI Pharma, we have many innovative solutions that the industry relies on to develop orally disintegrating tablets (ODT) and powders (ODP). Our functional excipients, taste-masked actives, and comprehensive technical service and support can help you solve even your most challenging formulation problems.