Effer-Soda®
Effervescent delivery systems can provide a number of advantages, including possible improved bioavailability and faster onset of therapeutic action. These convenient dosage forms are fast dissolving and highly soluble. For example, effervescent tablets provide a means of accelerating drug absorption by quickly releasing the drug into a soluble form that can be ingested conveniently with a more rapid onset of action. For these reasons, this delivery form is popular for many pharmaceutical products such as antacids, analgesics, and cough/cold formulations.
The Effer-Soda Advantage:                                 
Excellent Flow
Effer-Soda is a highly stable, free flowing sodium bicarbonate powder which is highly compactable, requiring less binder.
Enhanced Stability
It effectively protects against premature effervescence by reducing the moisture sensitivity of the formulation. This is accomplished through a proprietary process that modifies the surface of the particles resulting in improved stability and the elimination of an early effervescent reaction.
Manufacturing Efficiency
Effer-Soda allows for manufacturing in conditions with limited humidity control and can reduce processing steps and costs for effervescent tablets and powders.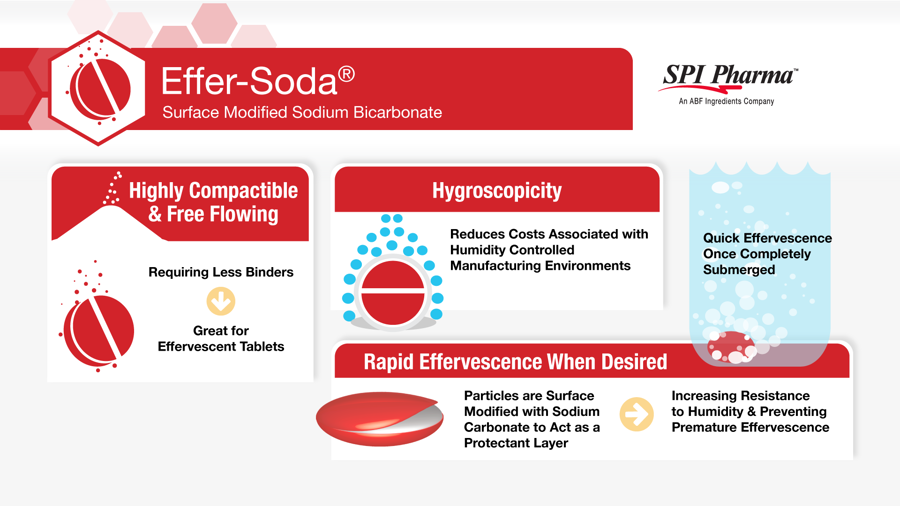 Related Applications
Related Resources
Do you have a question about a product?
Please contact us to talk with one of our technical experts. Are you ready to try this product?