Mannogem® Mannitol
SPI Pharma is the leading manufacturer of mannitol-based products for the pharmaceutical industry. Our extensive experience in polyol chemistry enables us to offer a wide range of customizable mannitol options for all applications and process requirements.
Key Functional Benefits Include:                        
Compactibility
Mannogem Mannitol is a strong and durable binder that exhibits high compactibility and low friability. It is not sensitive to overlubrication and displays high dilution capacity.

Stability
Due to its low hygroscopicity, Mannogem Mannitol provides physical and chemical stability of moisture-sensitive actives, especially APIs sensitive to hydrolysis. Additionally, Mannogem does not undergo the Maillard reaction in the presence of amines.
Solubility
Mannogem Mannitol products dissolve rapidly and can increase the rate of tablet disintegration and drug release. They can help accelerate tablet disintegration and subsequent drug dissolution.
Product Name

Target Application

Particle Size d(0.5)

Dosage Forms

Mannogem Powder

Wet granulation

Extrusion

Spheronization

Lyophilization

Liquid preparations

≈60µm

All Tablet forms

Lyoc Tablets

Specially designed for drug layering PPI pellets

Mannogem Granular

Mannogem 2080

Direct compression

Roller compaction with micronized API

Dissolution enhancement in swallow tablets

≈400µm

≈300µm

Swallow tablets

Lozenges

Chewable tablets

Sachets

Mannogem EZ Spray-Dried

≈140µm

Swallow tablets

Low dosage forms
(triturating with low dose actives)

Lozenges

Chewable tablets

Sachets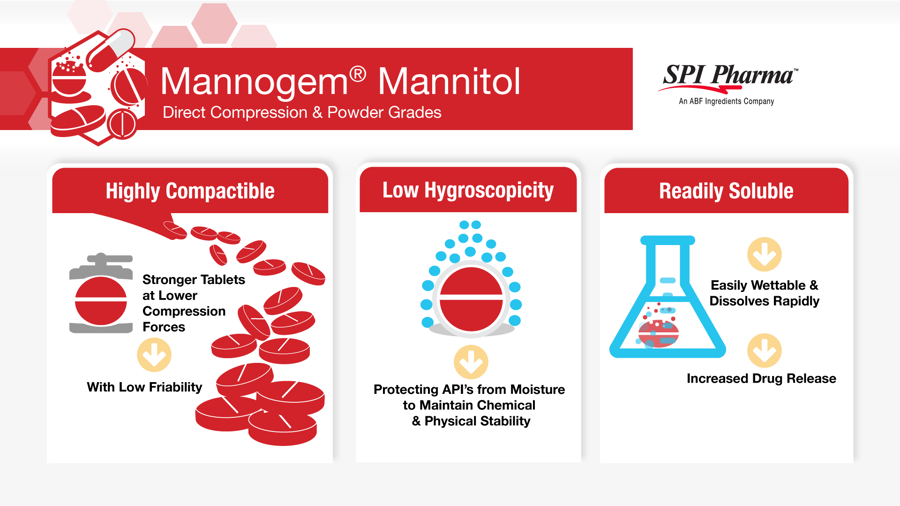 Related Applications
Related Resources
Do you have a question about a product?
Please contact us to talk with one of our technical experts. Are you ready to try this product?