S-Tab™ Preformulation for Tablets
Choose S-Tab™ for High-Quality Excipient Preformulations for Tablets
SPI Pharma's Unique Formulation Approach: S-Tab™ High-Quality Excipient Preformulation for Tablets
SPI Pharma stands out as a leader in swallow tablet formulations due to our optimized platform that incorporates a combination of different SPI materials, including , Crospovidone, Sodium stearyl fumarate, Sodium starch glycolate, Silicon dioxide, Microcrystalline Cellulose, Silicified MCC, and SPI Pharma's innovative Mannogem XL mannitol. 
Why Choose S-Tab™?
| | |
| --- | --- |
| Fast Product Development | Optimized platform with superior compactibility and flowability, speeds development for direct compression of tablets. |
| Enhanced Tablet Quality | High performance tablet platform surpasses competitors in functionality, content uniformity and enhanced stability. |
| Production Excellence | Enables high-speed direct compression with low failure rate, resulting in increased production and optimized profitability. |
S-Tab™ tablet platform is formulated for good flowability and excellent content uniformity , creating high-quality tablets. 
S-Tab™ tablet platform physical properties: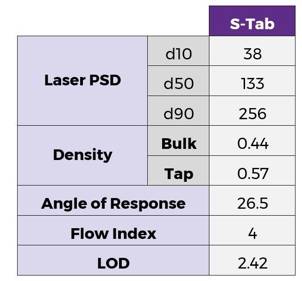 Safety and Handling
Specific safety and handling information are indicated on our Material Safety Data Sheet.
SPI Innovation
SPI Pharma's optimized platform for swallow tablet formulations offers cost-effective solutions with enhanced compactibility, flowability, dissolution, and stability. Our approach not only meets or exceeds industry standards but also helps streamline the tablet manufacturing process, making it an attractive choice for pharmaceutical, nutritional and specialty material companies aiming to develop high-quality and competitively priced swallow tablet products.
Partner with us
We would be glad to work with you to develop the perfect solution for your needs. We are ready to give you our support(s).