Actimask® Ibuprofen
Actimask® taste-masked ibuprofen is an ideal choice for the formulation of chewable or orally dispersible dosage forms. The aqueous hydrophilic coating delivers an excellent taste barrier. In addition, the uniform hydrogel coating provides a smooth surface that has an excellent mouth feel and is easy to swallow.
Adding Value to Pharmaceutical Products
Actimask Ibuprofen exhibits minimal drug release in the oral cavity during the first few minutes of exposure thus avoiding the unpleasant taste and sensation associated with this active when swallowed. However, at gastric pH it exceeds USP/EP compendial dissolution requirements. An in vivo pharmacokinetic study has showed that formulations with Actimask Ibuprofen are comparable to other marketed products. 






Actimask Ibuprofen is easy to use.  It has good flow and is directly compressible making it perfect for direct compression applications. The high assay content allows for formulation flexibility and also helps to reduce the tablet weight of high dose formulations.
Actimask Ibuprofen Features & Benefits
Features

Benefits

Uniform Hydrogel Coating

Effective taste-mask prevents ibuprofen burning sensation

Smooth organoleptics in orodispersibles

No residual solvent

Rapid Drug Release

Orodispersible formulations meet compendial dissolution

High Assay

Provides formulating flexibility

Good Physical Characteristics

Easy to manufacture dose forms

Bioavailable

Likely to be bioequivalent to marketed products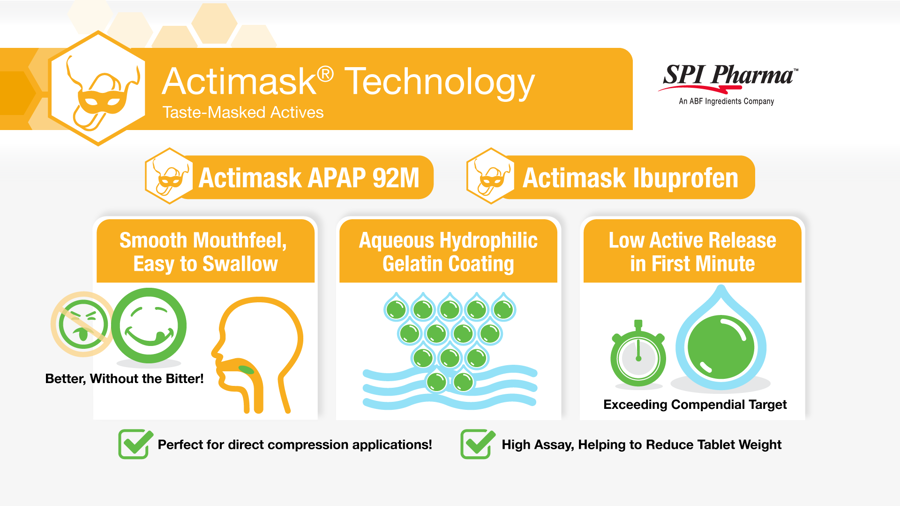 Related Applications
Related Resources
Do you have a question about a product?
Please contact us to talk with one of our technical experts. Are you ready to try this product?