Advantol® 300
The Advantol platform uses proprietary co-processing technology that was developed for the formulation of patient friendly soft chew tablets. Advantol is a robust off-the-shelf excipient system that gives you formulation flexibility during product development in your lab.
Convenient Soft-Melt Technology
Requiring no special manufacturing equipment or tooling, Advantol formulations utilize a standard rotary tablet press with conventional tooling, enabling you to create robust soft chew tablets under normal tableting temperature and humidity conditions. In contrast to using wet granulation or spray-drying methods, our technology allows you to simply add the active to Advantol, dry blend, and compress—reducing your production cycle time and costs.
A Cost-Effective Delivery System
Advantol 300 offers high compactibility, low friability, and rapid disintegration in one easy-to-use directly compressible excipient system. Easy manufacturing, high functionality, and superior organoleptic properties make Advantol 300 the excipient of choice for soft-chew applications. Benefits of this delivery system include:
Smooth mouth feel

Quick disintegration

High drug or nutraceutical active loading in a small tablet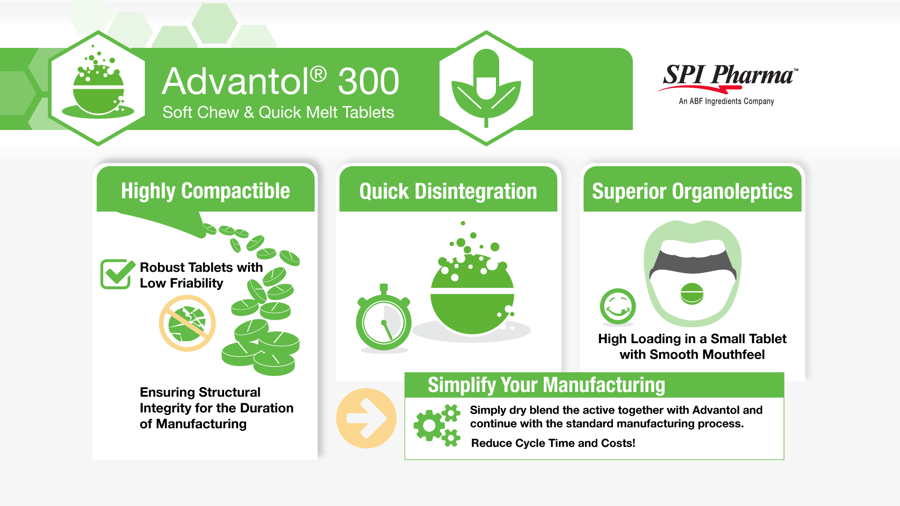 Do you have a question about a product?
Please contact us to talk with one of our technical experts. Are you ready to try this product?