Pharmaburst® 500
Pharmaburst® 500 is the global standard for orally disintegrating tablets (ODT). Its performance and versatility make it an ideal choice among formulators to address many different pharmaceutical or nutraceutical product development challenges. To date, Pharmaburst has been used in over 60 commercialized products around the world. This experience enables us to simplify your formulation and manufacturing process while streamlining your path to market.
An Innovative Platform for a Patient-Friendly Dosage Form 
Global pharmaceutical manufacturers choose Pharmaburst ODT technology to formulate their drugs as oral disintegrating tablets because of its many benefits, including:
Optimal compactibility with rapid disintegration for ODT tablets that are durable enough to withstand packaging and handling while also meeting requirements for rapid disintegration (less than 30 seconds)

components engineered to promote rapid wetting, swelling and disintegration thus ensuring a rapid disintegration ect, enabling the formulation of a fast-disintegrating ODT tablet even at high dosage levels (up to 500 mg)

Superior organoleptic properties, helping to ensure that each orally disintegrating tablet is palatable and provides a pleasant sensory experience

Ready-to-use system scientifically engineered to manufacture robust, rapidly disintegrating tablets using standard tableting equipment.

Cost-effectiveness and accelerated speed to market for product line extensions and entry into new markets and patient populations
Creating Unique Product Formulations
Pharmaburst ODT technology can be combined with our proprietary taste-masking solutions to create customized tablets with benefits such as:
Acceptability of orally administered drugs that have a bitter unpleasant taste 

Increased compliance among populations who may reject unpalatable tablets, such as pediatric, geriatric or psychiatric patients

Better therapeutic efficacy and bioavailability of certain drugs

Improved stability in some drugs

Improved organoleptic characteristics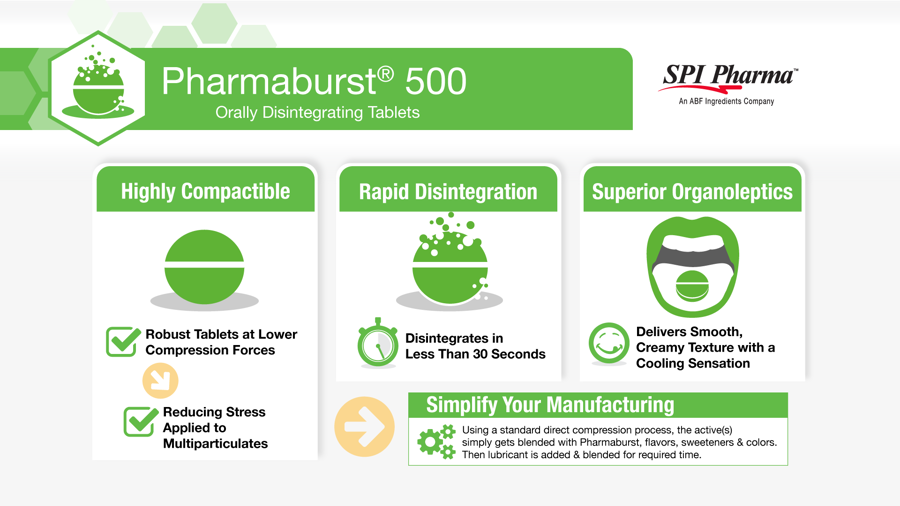 Related Videos
Related Applications
Related Resources
Do you have a question about a product?
Please contact us to talk with one of our technical experts. Are you ready to try this product?