Pharmasolutions
Pharmasolutions is a comprehensive drug development service focused on patient friendly dosage forms that can deliver convenience, compliance and efficacy.

Let Us Customize Your Next Oral Dosage Form!
At SPI Pharma we focus on developing patient friendly dosage forms. We offer a comprehensive drug development and testing service that can provide unique options to energize your drug portfolio. Pharmasolutions combines our proprietary excipients and APIs with our proven formulation expertise to create your next successful product.
Drug Development Capabilities:

Formulation Development/optimization

Product prototypes 

Analytical method development/validation 

ICH stability
Taste-masking


Manufacturing Scale-Up and Support:
Commercial manufacturing through a CMO
Clinical studies through CRO's
Assembly of full dossier in CTD format ready for registration
Now, you can avoid trial and error by putting our broad experience to the test—and get to market quickly and cost-effectively. We make the process simple.
Don't go at it alone. Put 75 years of experience on your side by partnering with SPI Pharma—and put the power of Pharmasolutions to work for you today.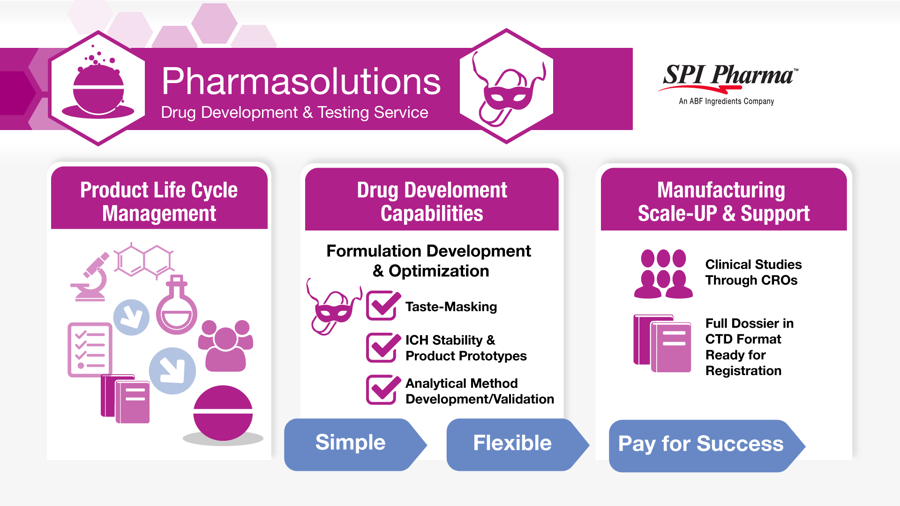 Related Videos
Related Applications
Related Resources