Compressol® SM
Compressol® SM co-processed polyol is a directly compressible excipient consisting of mannitol and sorbitol. This product is designed to assist the formulator with high active-loading formulations and difficult-to-compress actives. Compressol SM combines the benefits of both mannitol and sorbitol for a unique functionality.
Key Benefits Include:
Hygroscopicity
Low hygroscopicity is extremely important for tableting operations because excessive moisture uptake can cause poor powder flow and sticking that can impact the quality characteristics of tablets such as hardness, dissolution, and bioavailability. The low hygroscopicity of Compressol SM makes it ideal for the formulation of moisture-sensitive actives.
Compactibility
Compressol has the low hygroscopicity and pleasant mouth feel of mannitol and the high compressibility of sorbitol.
Organoleptics
Compressol has a pleasant taste and favorable mouth feel that makes it especially suitable for chewable tablets, but it can also be used in conventional tablets and quick-dissolve tablets.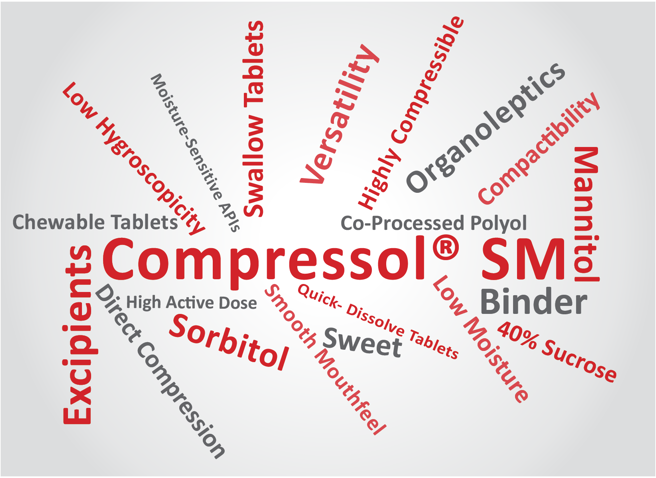 Related Applications
Related Resources
Do you have a question about a product?
Please contact us to talk with one of our technical experts. Are you ready to try this product?